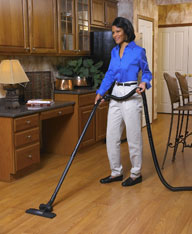 Experience VACUFLO's exceptionally powerful central vacuum performance and cleaning versatility with a wide variety of accessories and powerheads that are specifically designed for today's homes and furnishings.
The VACUFLO System works by transporting dirt, debris and dust particles through a simple network of tubing that runs through the walls to the power unit. The in-wall tubing is easily installed during construction or added to an existing home. Installation is usually completed in less than one day with no structural modifications needed.
Cyclonic Filtration Technology
VACUFLO® features Cyclonic Filtration Technology® (CFT™), a unique dual filtration process that utilizes cyclonic separation for primary filtration and either an outdoor exhaust (True Cyclonic® units) or pleated filter (Filtered Cyclonic™ units) for secondary filtration. Unlike central vacuum systems that rely on permanent cloth filters, the powerful performance of VACUFLO will not decrease as dirt accumulates. If you're serious about eliminating dirt and allergens from your home, there's only one choice: VACUFLO.
True Cyclonic
Filtered Cyclonic
Click an image above to view an animation of the different cyclonic filtration technologies
Product Brochure