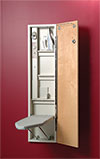 Model A-46
Top of the line, Model A-46, is professionally designed to include the most premium set of features, allowing for the utmost ease and comfort when ironing.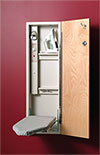 Model A-42
The Model A-42 is skillfully designed with a 90 degree left/right, industry standard 42-inch, ventilated steel swivel board, giving flexibility in confined areas.


Model E-342
The expertly designed Model E-342 includes only core components and any additional features are optional. You design the perfect ironing center to fit your needs.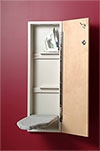 Model NE-342
Model NE-342 is just what you need if an electrical outlet is easily accessible. Built with all the same quality materials as our electric models.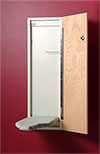 Model NE-242
Sleek, surface mounted Model NE-242 is a non-electrical unit. Perfect for areas where you want to iron, but the wall surface cannot be penetrated for recessed.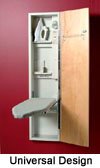 Model AL-42
This model adapts to everyone in the household. Product features are adaptable for the person who prefers to stand while ironing yet are installed to meet the accessible reach requirements for someone who will be seated.